Digital Writing Devices - Boox Note 2
Recently I bought a Remarkable 2 and was a bit disappointed. I then bought a Boox Note 2 for a very good price on Willhaben and am very happy with it, it is exactly what I was looking for. It is a versataile eBook reader with a good note taking functionality.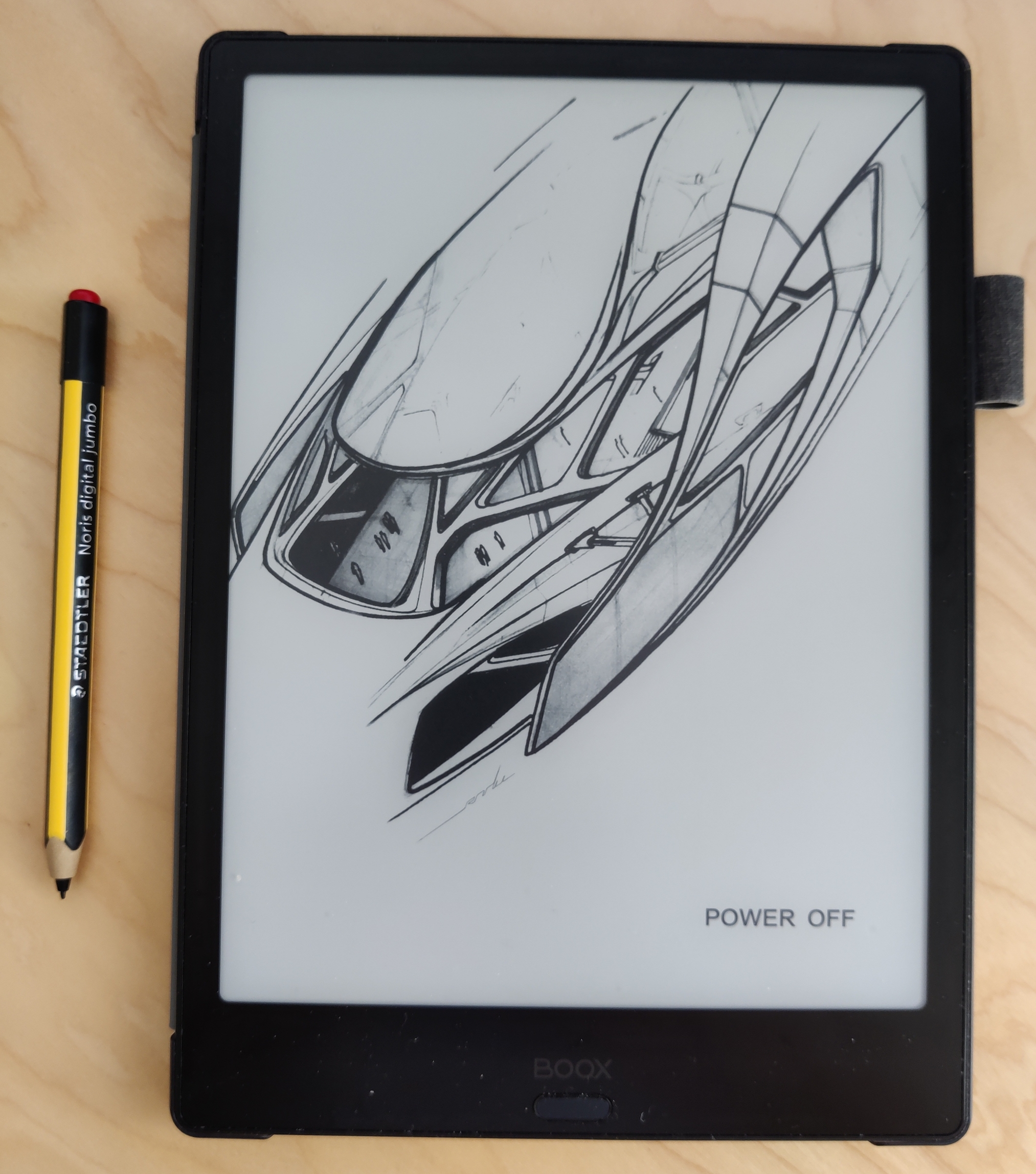 What it is
The Boox Note 2 is a 10.3 inch eInk tablet with a capacitive touch feature that you can use without a pen for navigating and it also supports Wacom stylus pens for exact drawing and writing.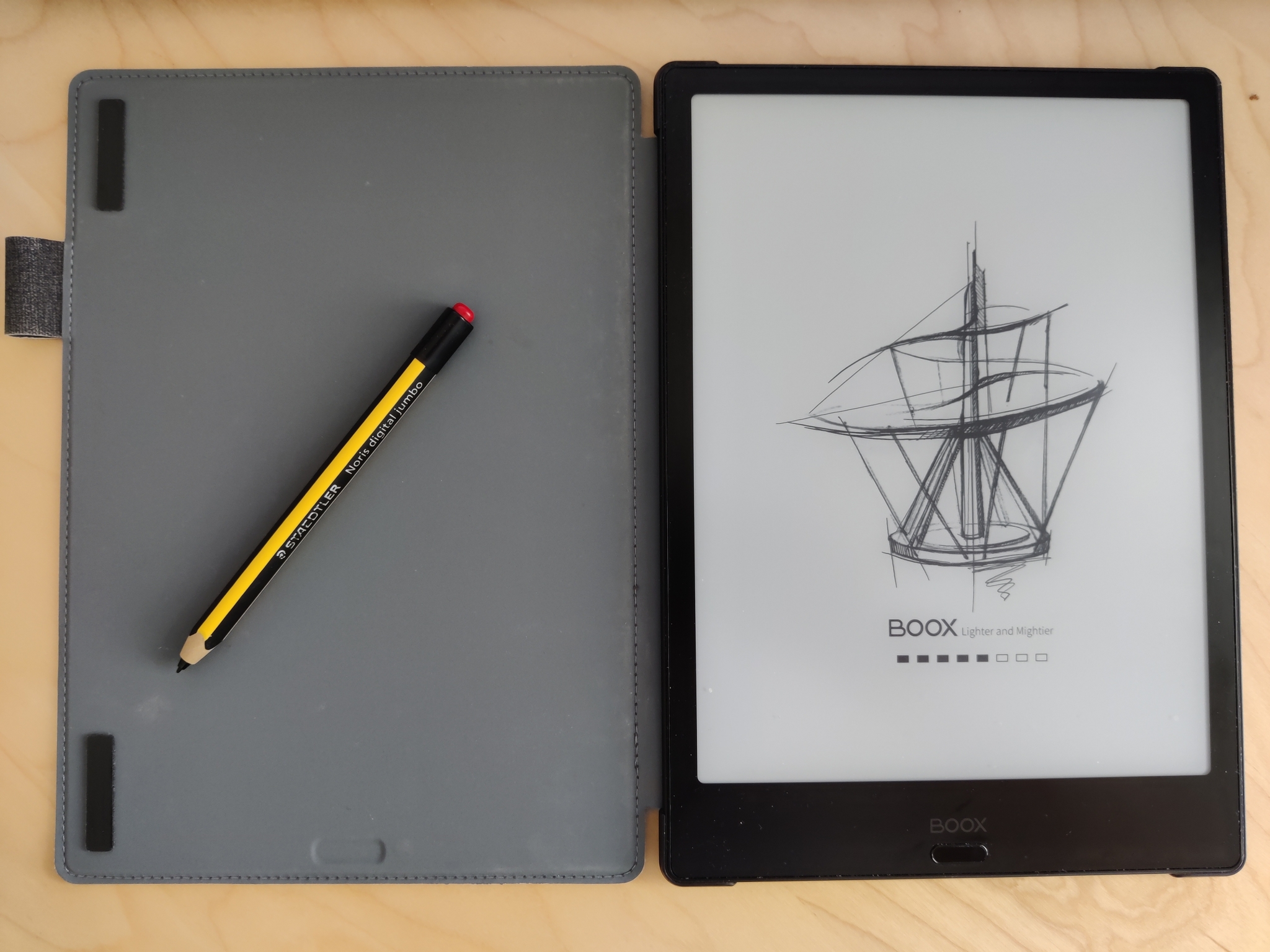 The device has a USB-C port and a finger print sensor. Obviously there is also a power button on the top of the device. It supports OTG so you can connect peripherals too. It has wifi, comes with small speakers and a microphone and other features you would expect from a tablet.
In contrast to the ReMarkable, the Boox Note 2 comes with an Android 9 operating system. This means you can install any Android App which is compatible with the Android 9. The device has an active backlight, which means you can read in the dark. The light can be adjusted and you can also fine tune the color temperature of the light.
The killer feature to me is that I can install arbitrary apps. For instance it allows me to use Amazon's Kindle App and other readers. I can also install Syncthing or share documents with Google Drive. You might not find the desired apps within the integrated app store. This app store has quite a limited selection. But when you browse Google's Play store you can select the device after registering it with your Google account, and then install it remotely.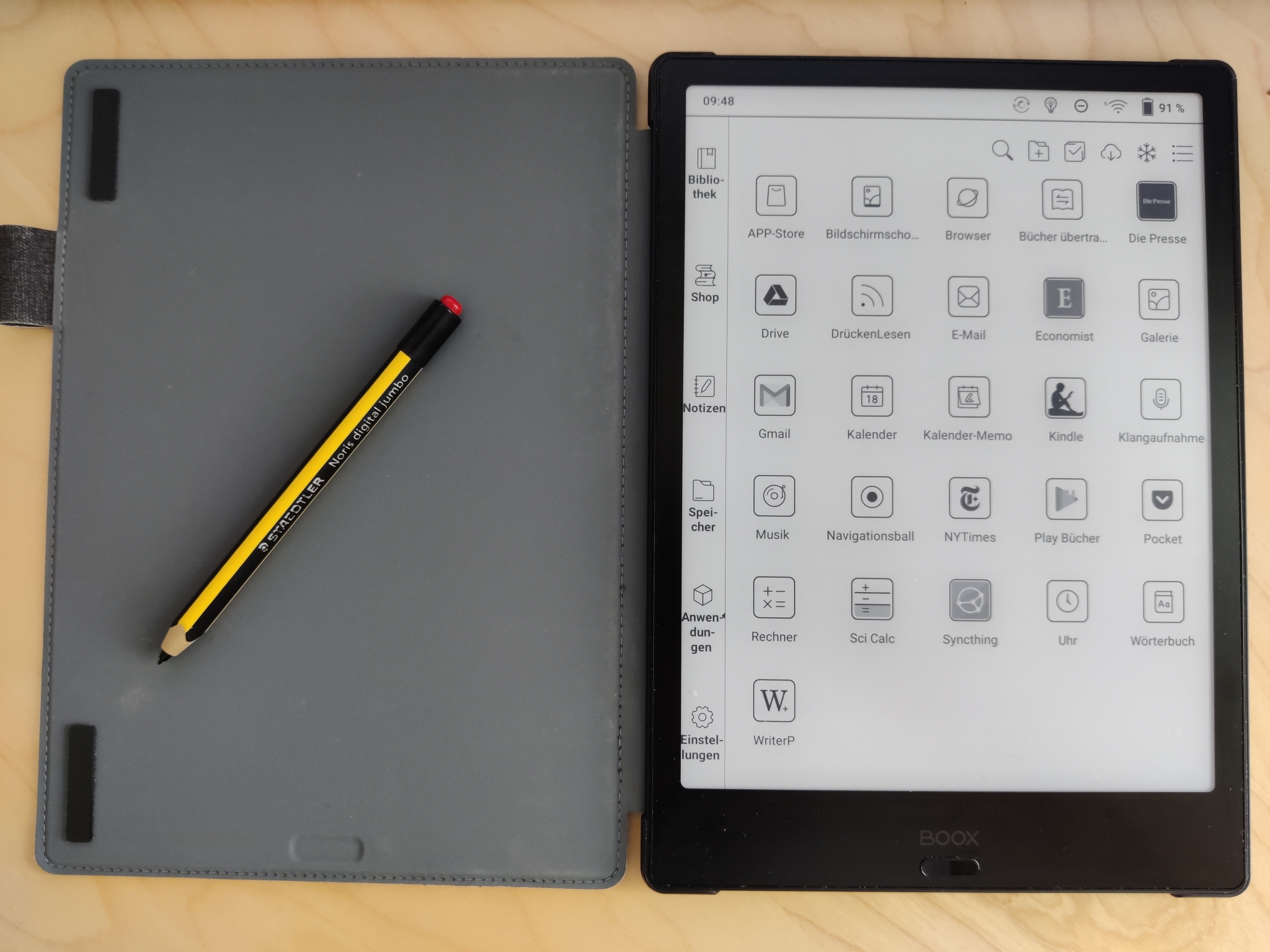 You cannot directly annotate documents you read within apps, but it is possible to annotate PDFs document, when you use the integrated PDFs. Out of the box the device supports the following formats: PDF, EPUB, TXT, DJVU, HTML, RTF, FB2, DOC, MOBI, CHM and others.
The Boox 2 offers a simple cloud sync service to backup the documents and to upload documents to the device. The note taking functionality is great, there is all you need and the lag is rather short when writing. There is even a split screen functionality, where you can use the tablet in landscape mode and open a document on one side and scribble into a notebook on the other side of the screen.
What it is not
The hardware it self does not feel very high quality. The menus are quite simple, the translations to English are not the best. Some menu items have a funny name. The sync function is only very basic. Exporting the notes requires to sync them first so that the device produces PDFs. Only then they can be exported manually.