Remarkable 2 Extensive Review
A new writing and reading experience - Not there yet
In the following I am going to review the reMarkable2 e-ink tablet. I bought the device in the pre-sale and tested it extensively. While the writing experience is great, there are quite a few drawbacks. Unfortunately those drawbacks are outweighing the advantages by far for me. Although being very enthusiastic about the reMarkable2, I decided to send it back. At the end of this article you will find my thoughts.
On writing and thinking
After all this years working with computers professionally, I am still a fond lover of handwriting. I consider writing by hand a cultural technique worth preserving and I admire people who do have a beautiful style of writing. Unfortunately my handwriting is sloppy and hard to read for others and sometimes even for myself. Nevertheless, investing the time to write a thought down manually allows me to retain the information longer. Although I use a simple mark down based text file for keeping notes at work, I also use a classic notebook and Tombow caligraphy pens for jotting down ideas and tasks. Obviously making little sketches and drawings is also more convenient using a regular pen and paper approach.
Digitization of an old craft
A friend of mine is using a remarkable 1 and is quite happy with it. It seemed lightweight and I liked the idea of having digitized notes with a proper look and feel of paper. I also have seen other friends using a tablet like the iPad for taking handwritten notes with a special pen. Using a tablet with its glossy surface did not seem to appealing to me, although an Android tablet would of course offer a completely different set of possibilities. However I noticed that writing on a tablet seems to involve a lot of navigating and selecting functions before the actual writing takes place. Also it is of course a permanent distraction, the same as a regular laptop would be in a meeting. It was the simplicity and the dedicated purpose of the reMarkable2 that I find intriguing. When the reMarkable2 was announced, I decided to give it a try. When it arrived I have had enough distance to reconsider my consumerist decision and I thought about selling it right away. My decision of keeping it or at least giving it a try was made during a call with friend Norbert, who owns a reMarkable 2 for a few weeks and was positive about it. I will now try if for the 30 day no questions asked period and see how it works for me.
The order process
remarkable
1x Marker Plus: €40
1x Book Folio – Polymer weave – Gray: €20
1x reMarkable 2: €399
Including taxes and shipping I ended up paying 459 EUR upfront. The delivery date was moved two times, but I finally received the device on the 19th of November. The reMarkable web site still offers the same pre-sale option, the marker is more expensive now. However, I think the price might change again when the product is rolled out globally.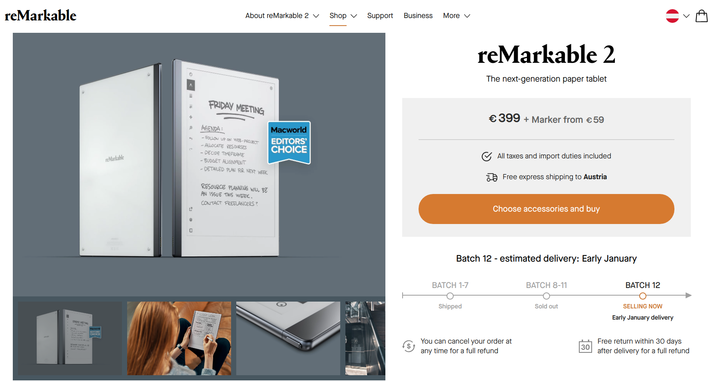 Unboxing
The product is very nicely packaged. I received the reMarkable2 device, the marker and the protective cover (book folio) in separate cardboard boxes. There is a USB Type C charging cable and some extra pen tips included.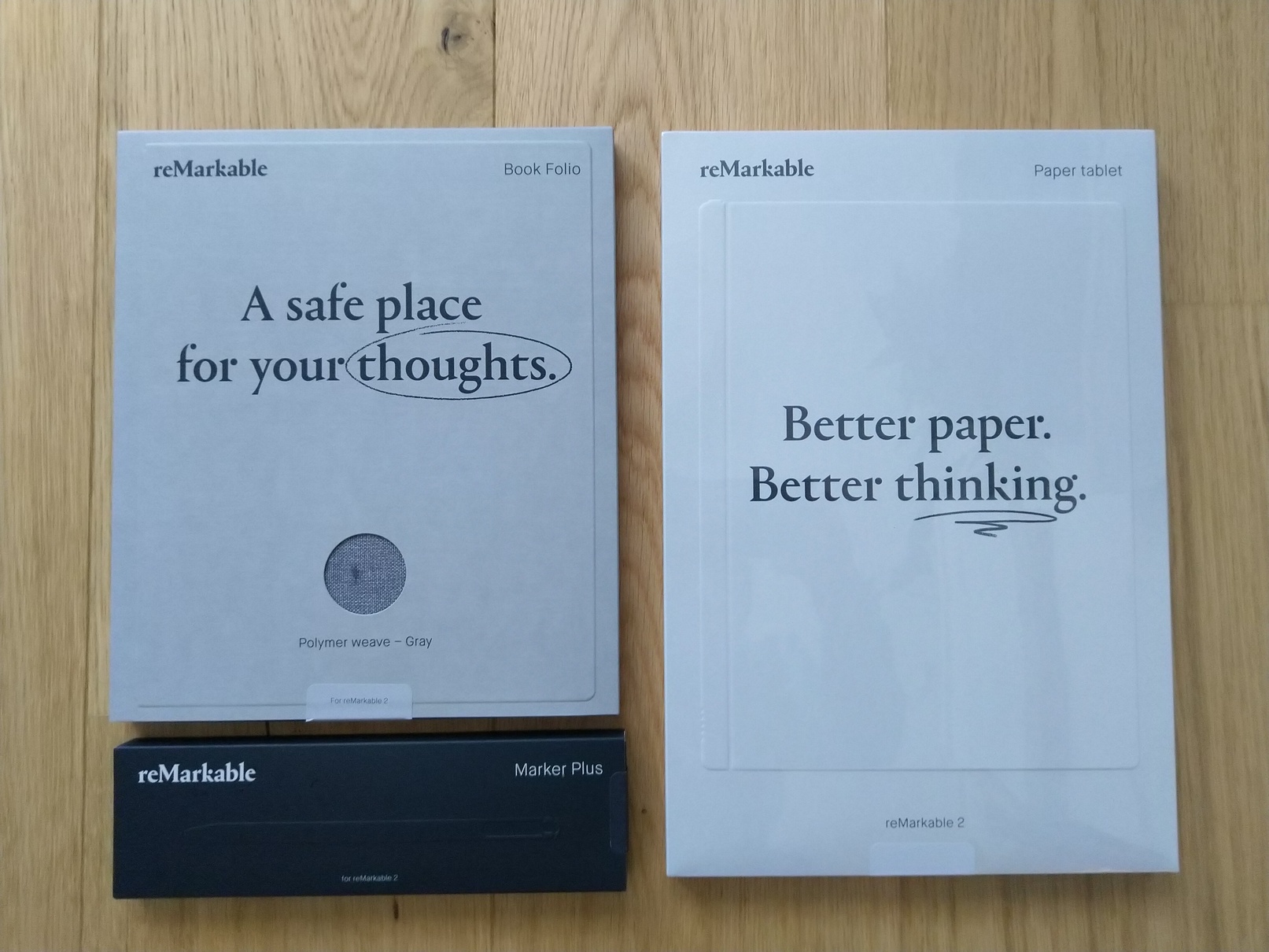 The tablet it self is super thin and looks very well made. It is also light, but it does not feel fragile.
Setup
The setup is simple. One needs to add the wifi details on the device and register at my.remarkable.com. After entering a one time code the registration is complete. The settings are straight forward and clear. Basically one only needs to enter if you are left or right handed and select the language you are writing in the the text recognition.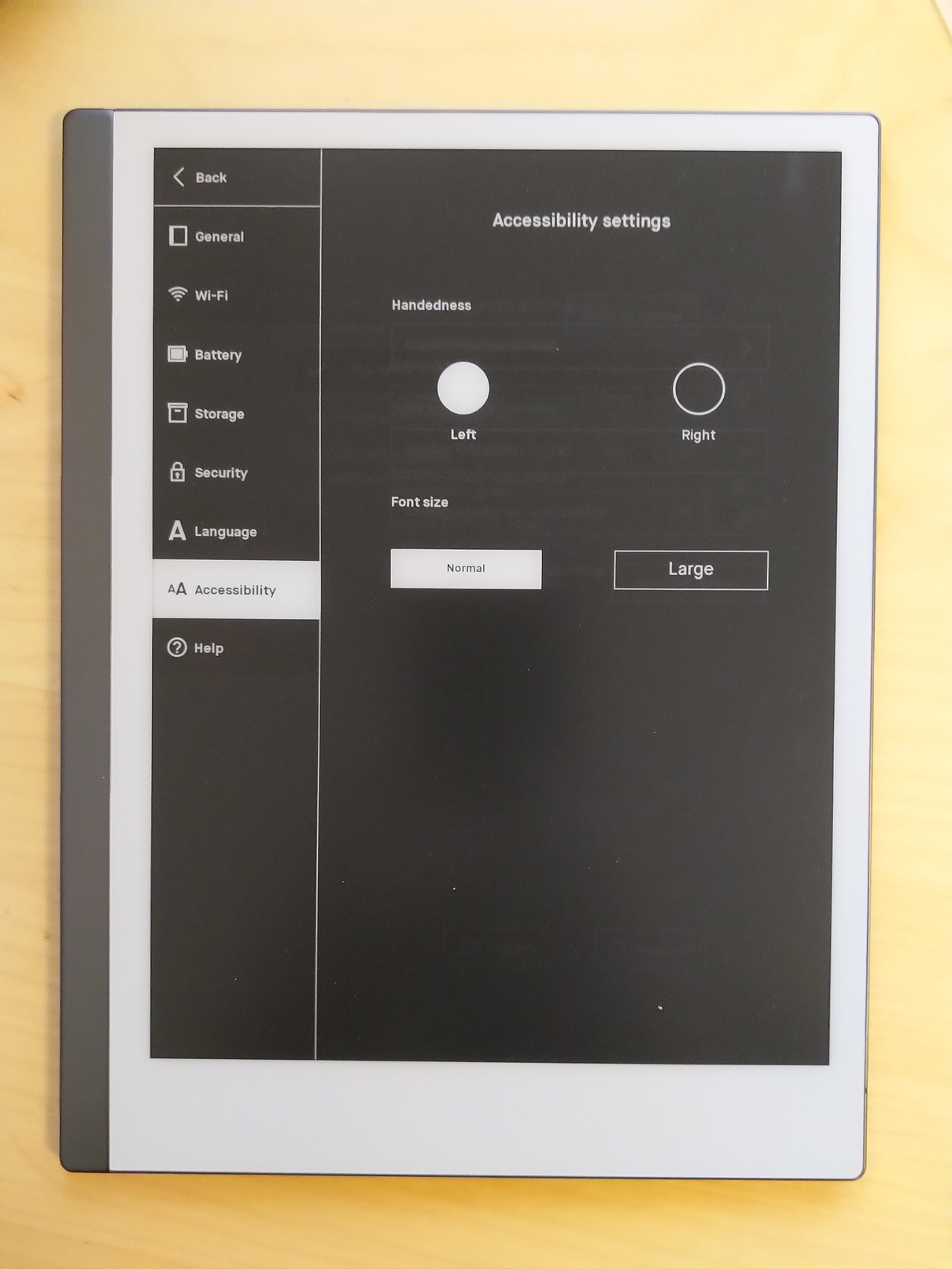 Usage
There is only one hardware button to turn the device on and off. You can enter a pin code to protect the device and its content from others. The display is very sharp and the reading experience is exceptional. Writing is also very nice, the response time is super fast, almost without delay. One can select different pens and markers and alter the colors between black, grey and white. My pen also came with a eraser function at the end of the pen. Below is an example how the exported PDF looks like.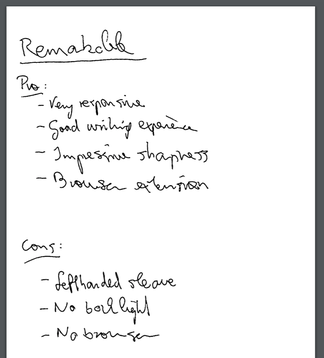 The text recognition works well, one has to concentrate on a nicer hand writing though. The text above would be just gibberish. Also it does not detect the language automatically, but you have to select a global setting. The text conversion functionality is rather primitive, but should be sufficient to make the text searchable.
There is also a plugin for the Chrome browser, which allows you to send any web site via the reMarkable coud to your device. This works extremely well and makes up for the fact that there is no browser on the device itself. It comes of course with a big privacy downside, because reMarkable will know very well what you are reading. There is also an App for Android, whichallows you to view and upload documents from the phone. Sharing articles does not seem to be supported.
Here is an example of an "quality journalism" article that worked well (from www.derstandard.at).
Compared to other eBook readers it offers more reading real estate and it is much thinner.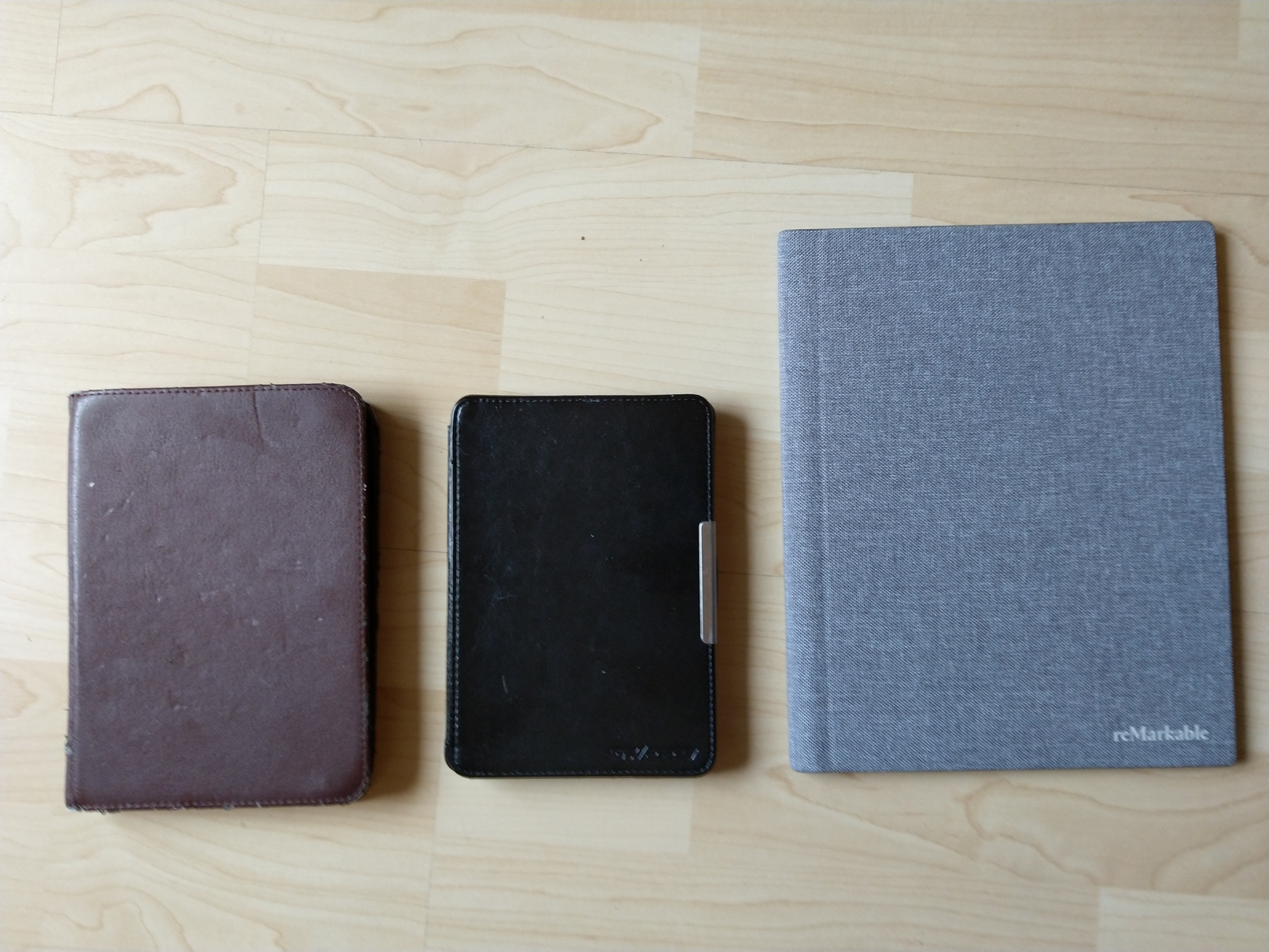 Conclusion: Sending it back
I have been using the reMarkable2 for almost two weeks every day. The device arrived with great timing, because I was having a lot of meetings recently. In total I have written more than 80 pages and the writing feel is exceptional and fun.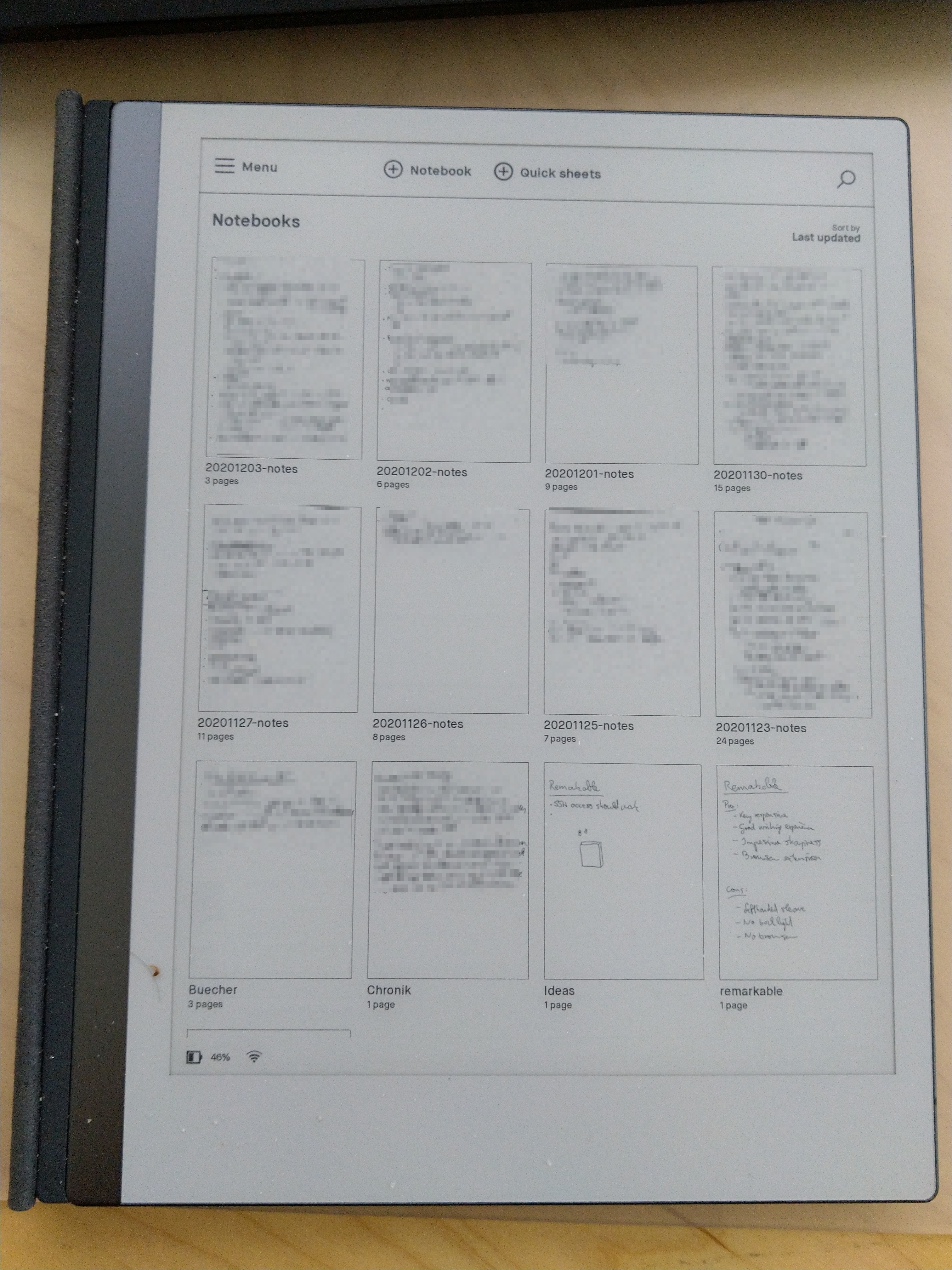 However there are too many little things that are not there yet. I do not intend this article to play down a device. I do not like slating reviews, especially from products from small companies and with a great vision. I repeat that the reMarkable2 is really great, but it does not fit into my workflow and there are too many little things which should have been fixed in a second revision.
The most annoying part is the syncing solution. This could be so much easier and I do not understand, why the device is so closed down. Of course, you could write that about many other devices too (looking at you Apple), but in this case, the scope of the application is so narrow. You can only use it for writing and reading. Why not make this as frictionless as possible. I would have expected that a single purpose device really does this one thing extremely well. I am not willing to take many compromises on a 460 EUR jotter.
Yes, there are independent projects on Github boosting and fixing things, but although I love tinkering, I do not want to fiddle with a writing device so much. I do not want to install scripts to keep some directories in sync (and I say this as a 15 years Linux user). I just want it to work.
In order to be able to find my notes again after some time, I would need something that goes beyond near miss OCR. Sure, my writing is not easy to read, but even when trying there are too many errors. Also the reMarkable2 can only recognize one language and very simple formating styles, such as lists. There is no search function. If you want to write something more than a shopping list, it will not be useable without properly digitizing the document.
Maybe there is a future iteration of the reMarkable2. I would totally give it another shot. But as it looks now, it is not what I expected: A replacement for a Moleskine notebook.
Pros and Cons
I will evaluate the device within the next weeks and update the list of pros and cons as I use it. It seems to be a great device and the list below should not leave the impression that it is not, just because the list of negatives is longer. The last update was on the 20.11.2020 04.12.2020.
Pros
Very good look and feel
The writing process is great
It does feel almost like paper
Someone more artistic might even be able to draw on it
Super lightweight
Cons
The folio is not for left handers
Yes, we are a minority, but while the device supports the left handed folks, the protective sleeve is not. I am used to this problem and would turn around a classic notepad if needed, but this does not work with the folio. You can only mount it on the left side and it does incommode me. I love its hipsteresque appeal, but I probably will not be able to use it.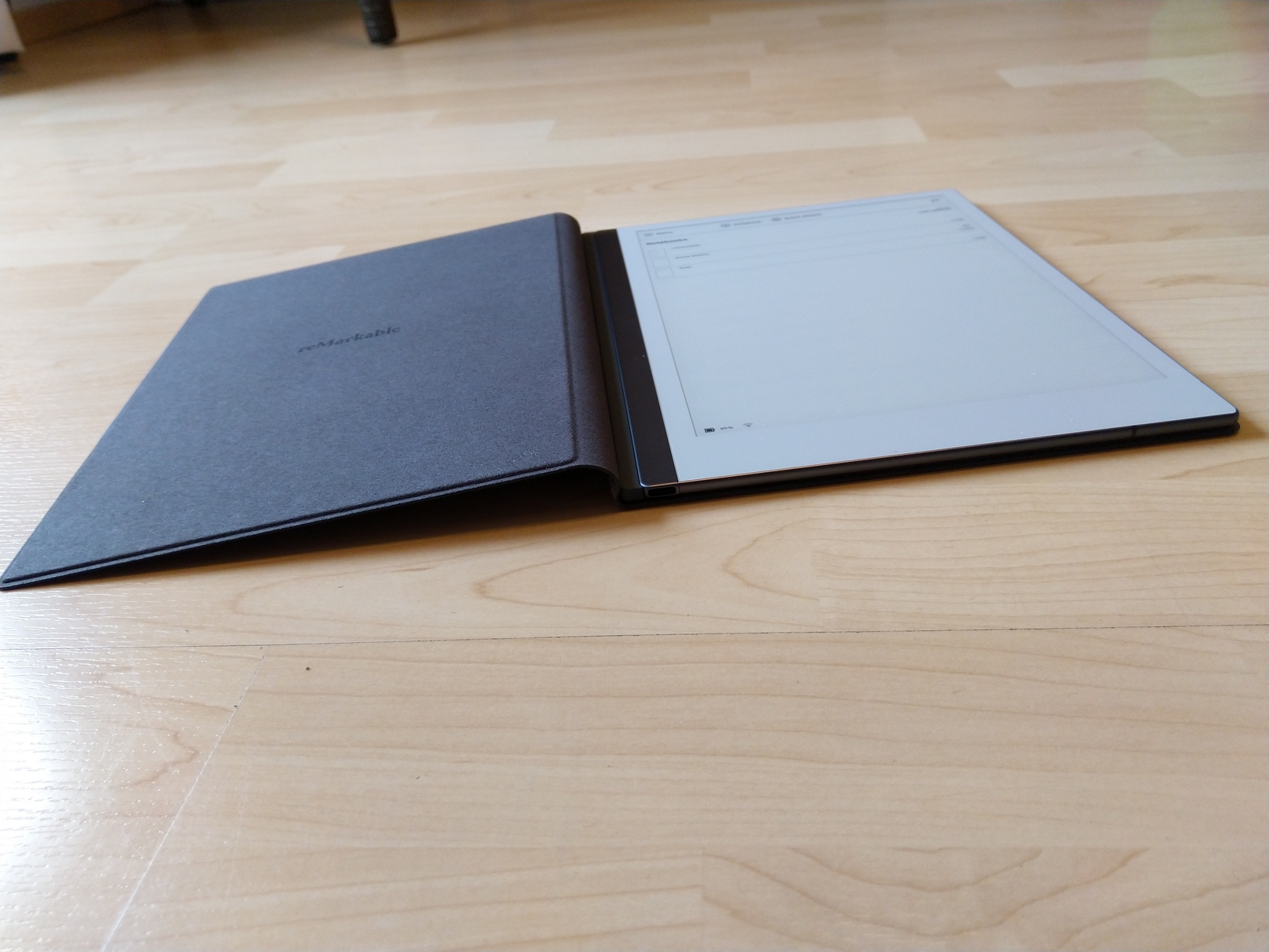 No backlight
I love reading in bed, next to my special someone who requires more sleep than I do. The reMarkable2 has no backlight at all. It really is likea book, you cannot read in the dark without a light source. This seems to be the trade off for the slim form factor. Other devices like the Amazon Kindle or the Tolino Shine do have backlights, but are much thicker and heavier.
Private cloud
The device only supports the private cloud of reMarkable. You cannot sync your documents from other clouds. This is a big blocker, the benefit would be huge if one could just use Google Drive, Owncloud or whatever.
No browser
Even a simple browser for selecting articles would be nice.
Sharing options
The Chrome desktop app is great, but the Android variant does not allow sharing articles. I do not understand this, this would be extremely benefitial. Getting files on the device is in general cumbersome. It basically only works via the Chrome App or when connected via USB-C and when using the integrated Web server on the reMarkable2.
Organization
Shared web sites will show up under ebooks, there is no configuration. If you use the feature extensively, it will clutter immediately, since you do not have control over the file name or where it will be stored. You can create folders, but you cannot do so in the Web interface. In the Android app you can only rename files, but not move them. This means you have to fiddle with each and every file on the device.
Rendering
When sending a Web page to the device via the Chrome plugin, the rendering can be weird. This also can happen with rather simple pages, below is an example from the Hibernate documentation. I would have expected to get such a simple page without problems.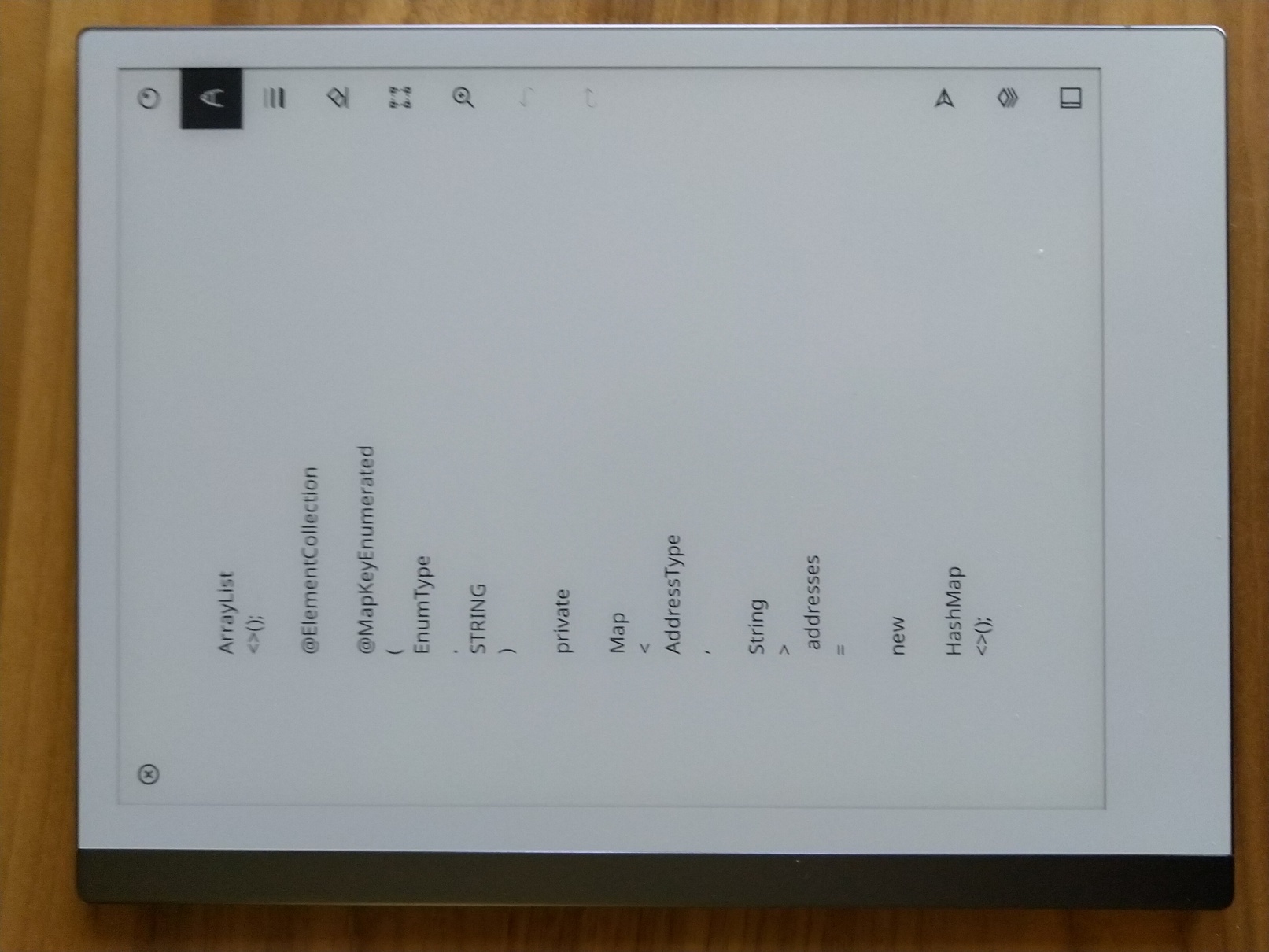 Not detected as MTP device under Linux
This could have been simpler, why can't I just drag and drop my ebooks over? The reMarkable registers as a new networking device, when you enable the web interface, at least there is some non-cloudbased access possible.
Nov 20 08:45:32 xps kernel: [ 5662.967832] usb 1-6.1.1.2: new high-speed USB device number 25 using xhci_hcd
Nov 20 08:45:32 xps kernel: [ 5663.085530] usb 1-6.1.1.2: New USB device found, idVendor=04b3, idProduct=4010, bcdDevice= 4.14
Nov 20 08:45:32 xps kernel: [ 5663.085537] usb 1-6.1.1.2: New USB device strings: Mfr=1, Product=2, SerialNumber=0
Nov 20 08:45:32 xps kernel: [ 5663.085540] usb 1-6.1.1.2: Product: RNDIS/Ethernet Gadget
Nov 20 08:45:32 xps kernel: [ 5663.085544] usb 1-6.1.1.2: Manufacturer: Linux 4.14.78 with 30b20000.usb
Nov 20 08:45:32 xps kernel: [ 5663.089960] cdc_ether 1-6.1.1.2:1.0 usb0: register 'cdc_ether' at usb-0000:00:14.0-6.1.1.2, CDC Ethernet Device, d2:dc:08:36:a6:a9
Nov 20 08:45:32 xps mtp-probe: checking bus 1, device 25: "/sys/devices/pci0000:00/0000:00:14.0/usb1/1-6/1-6.1/1-6.1.1/1-6.1.1.2"
Nov 20 08:45:32 xps mtp-probe: bus: 1, device: 25 was not an MTP device


When you enable the web interface, browsing to http://10.11.99.1/ shows a primitive tool where you can upload and download the documents. You cannot create folders for organizing the books and papers to your liking using this interface. There is no authentication, so better not activate this in an untrusted wifi. The web interface only works when the USB cable is connected. Maybe this is the security concept.
Inconsistent UX
On the one hand, the reMarkable cannot be used without the pen. Yes, you can navigate and enter the settings, but it is impossible to mark anything or mark something quickly just by using your finger. On the other hand (pun intended) you cannot use hand written text for naming files or any other input. You have to use the virtual keyboard and this again works best with the pen.
No proper search
The search only works for filenames, regardless of the file type. You cannot even search epub documents. This is very poor and when you use the handwritten notes, you cannot find anything inside the documents. With this limitation you can also take a picture of your traditional notebook and send it to yourself.
No tags or bookmarks
You have no possibility marking where in a document you stopped reading. The only alternative is to make a handwritten annotation, but that basically is like making a digital dog-ear. Also you cannot mark multiple pages and quickly jump to them. All you can do is marking an entire document as favorite. Because the file organization is so bad, you will end up with a lot of favorites, rendering the feature useless again.
Adding custom tags to documents would be super useful, yet there is no such option.
Charging cable position
The charging cable is at the bottom. If find this not ideal, because when put on a desk like a regular notebook, the cable is incomodating.
Send via email
The send via email functionality cannot customize the send email address. It will always send the notes from my@remarkable.com. If you want to send your notes to a friend or colleague directly, it very likely will end up in spam.